>> Simon's Weather Musings <<

CFS sees drier final week of July

High pressure building

By Simon Keeling in Wombourne, Staffs 16:30hrs 12/7/12
Temperature: 16.0C Weather: Clouding over

Interesting to see this chart from the CFS model.

It's a hemispheric chart centred on the north pole, so you do have to turn your head 180 degrees to view it!

The chart shows 500mb height anomalies, so where the colours are blue and green heights are below normal (i.e. wet, low pressure) where they are orange and red the heights are above normal (dry and warm, high pressure).

See how the model predicts above normal heights centred over Ireland through the 26th-1st, hinting at heigher pressure and drier weather and backing up our forecast of a spell of more summer like weather (although not too hot).

Conditions are back to normal in the following week and so our taste of summer may not be long lived, but at least it is better than what we have right now!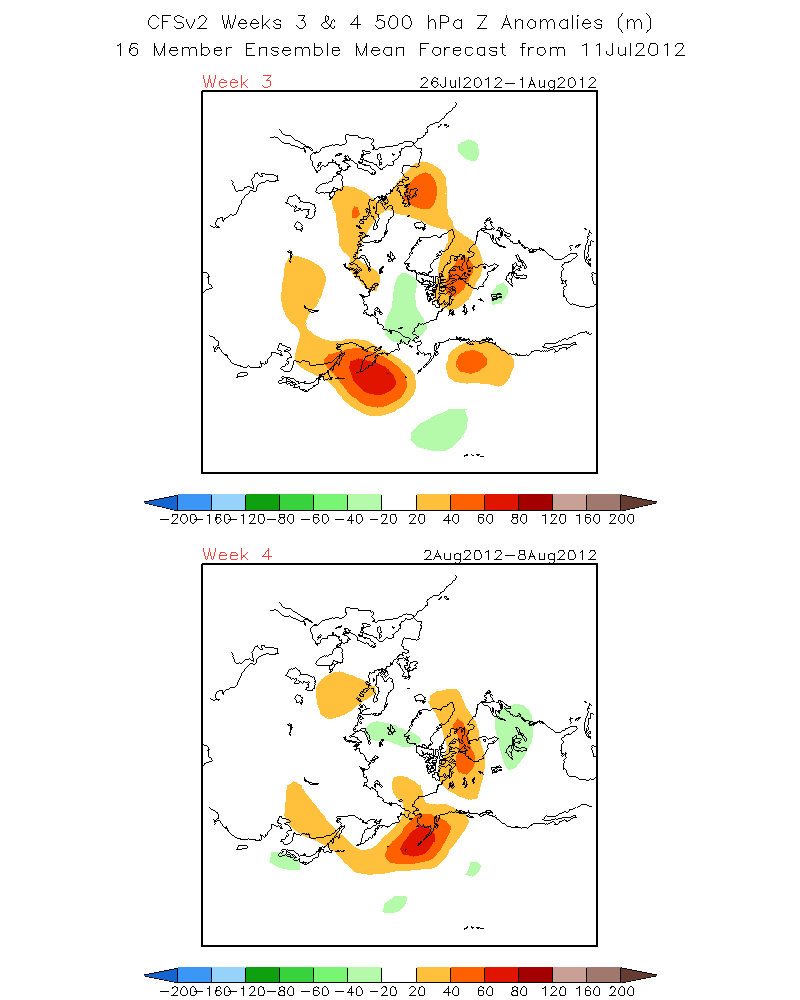 >> Learning channel <<
Spring Tides and the Storm Surge


>> More of Simon's Weather Musings <<

A day out at the ECMWF
By Simon Keeling in Wombourne, Staffs 20:30 11/12/2013

And I'm still needed!

Washington DC Snow closes government
By Simon Keeling in Wombourne, Staffs 16:00 10/12/2013

Freezing rain and snow continue

Tabloid hype knows no bounds!
By Simon Keeling in Wombourne, Staffs 15:45 10/12/2013

Ridiculous headlines once again

USA winter storm brings freezing rain
By Simon Keeling in Wombourne, Staffs 10:20 09/12/2013

Snow for many

Mild next week but then Christmas cool?
By Simon Keeling in Wombourne, Staffs 09:20 09/12/2013

Don't expect anything too dramtic



>> Your weather blogs <<
The latest from our team of weather bloggers (be one)

A day out at the ECMWF
By Smon Keeling in Wombourne, Staffs 20:30 11/12/2013

And I'm still needed!

Historic storm surges
By Garry Nicholson in Darley Dale, Derbys 19:00 07/12/2013

Selection of notable coastal floods/damage

Ashes weather - Adelaide
By Garry Nicholson in Darley Dale, Derbys 19:00 04/12/2013

English type weather at first



>> Around the webcams <<
Latest webcam pics (add yours)